Rosewood Pet Products
Antimicrobial Pet Products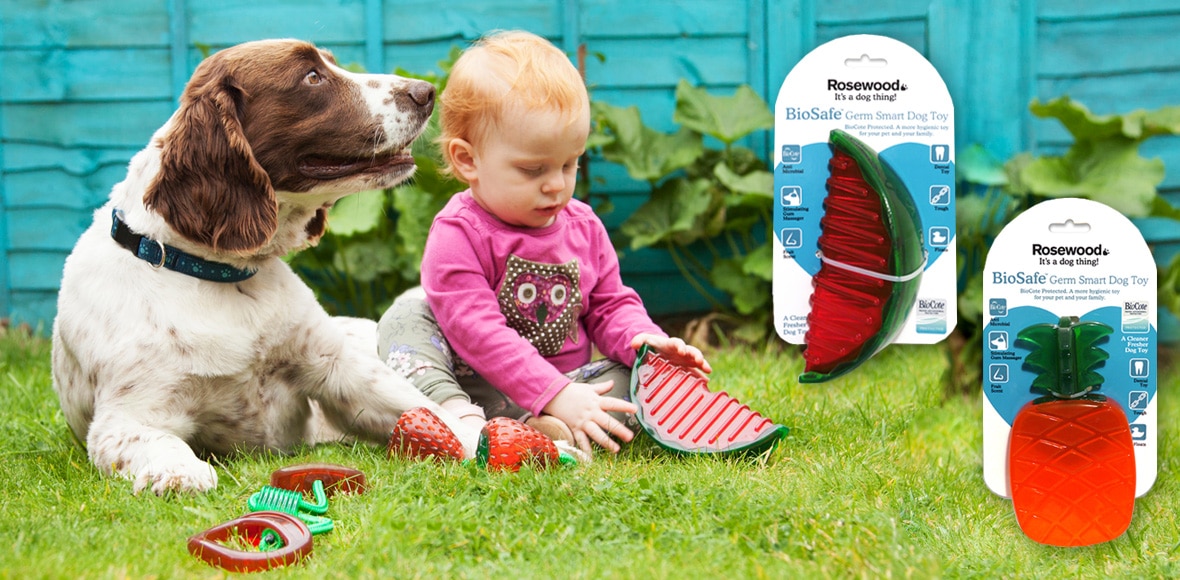 Antimicrobial Pet Products by Rosewood
When it comes to pet products, whether for 'play, snoozes or healthy bones', nobody does it better than Rosewood. The company's portfolio of products includes something for everyone (every kind of pet that is)… from the very big to the very big at heart.
Rosewood sources, produces and distributes pet accessories, pet treats and an exciting range of related products for pets and the people who love them. They also design and develop their own pet care products to get tails wagging, keep kitties sitting pretty, and help birds, small furries and fish enjoy happier, healthier lives.
For Rosewood, it's all about giving their customers the products they need to best care for their fur (and feather) babies. That's why they choose to work with BioCote® to offer a unique range of BioSafe dog toys.
Benefiting from our proven antimicrobial technology, these innovative toys are protected from the negative affects of bacteria by up to 99.99%, making them more hygienic and safer to use for both pets and their owners. BioCote® also helps to reduce the risk of staining, bad odours and premature material degradation – ultimately extending the toy's functional lifetime.
The Rosewood Pet 'BioSafe' dog toy – constructed out of tough yet soft plastic – massages gums to reduce plaque and tartar build up, has a zesty fruit scent and even floats too!
If you are interested in Rosewood's range of antimicrobial dog toys, or in making your own products antimicrobial, please contact a member of the BioCote® team on +44 (0) 2477 712 489 or message us.
Benefits to your business
Consumers, distributors and retailers around the world recognise the BioCote brand, making purchasing decisions quicker.
Market research shows customers are more likely to purchase products with BioCote protection and are prepared to pay a premium.
DIFFERENTIATE YOUR PRODUCT
Your new product feature allows you to take advantage of the combined goodwill created by our partners around the world.
What our partners say
Partnering with Biocote was a simple decision: to be able to show our customers we use a proven supplier with knowledge in this specialist area and allows us to combine our expertise and provide the market with new and exciting solutions. The antimicrobial feature for our cable management systems allowed us to differentiate ourselves with PVC trunking in the Health and Education sectors, key markets for REHAU.

Marketing Communications Manager at Rehau

We launched our antimicrobial chair range initially to add a genuine USP to our customers, but quickly extended our ranges into tables and storage units. Our products are primarily used in schools where children's immune system has not quite developed fully, so our antimicrobial range not only benefits the pupils, but also the school, too. The expertise and advice given is streets ahead of the other antimicrobial companies that we contacted, plus we especially liked the excellent marketing support and documentation available via the partner portal.

Marketing Director at Proform Europe

Having now worked together for over 10 years we know each other well, our relationship continues to flourish on a foundation of trust, understanding and mutual respect. Like any relationship it has developed and improved over time but it is these qualities that have seen BioCote become a partner in the truest sense of the word.

Marketing Director at Waterlogic