Rosewood Pet Products
Antimicrobial Pet Products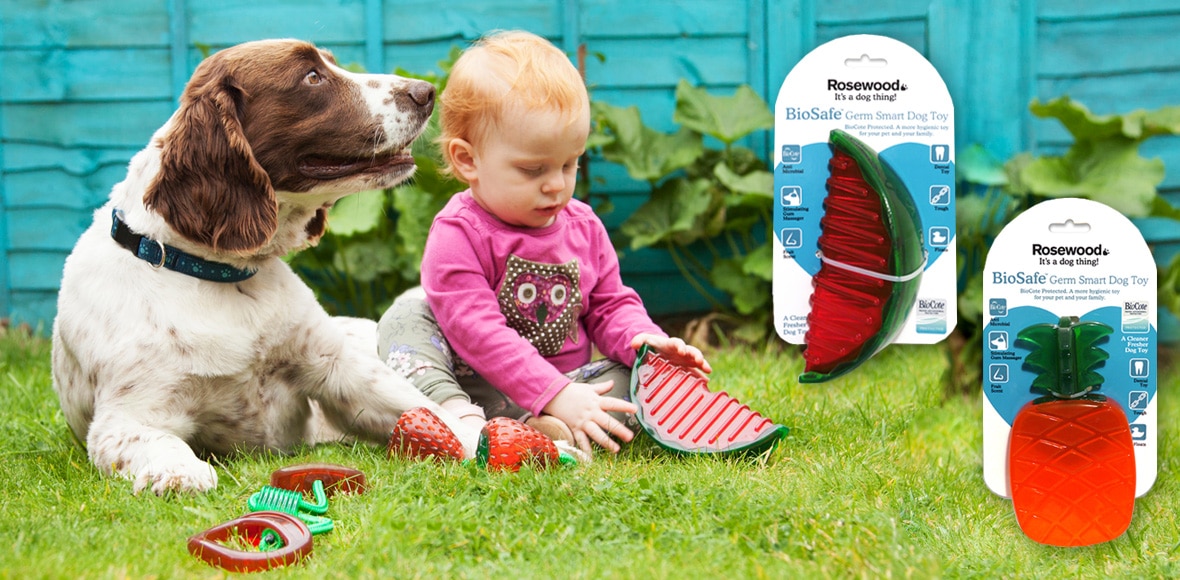 About Rosewood
When it comes to pet products whether for 'play, snoozes or healthy bones', nobody does it better than Rosewood. The company's portfolio of products includes something for everyone (every kind of pet that is)… from the very big to the very big at heart.
BioCote protected, the Rosewood Pet 'BioSafe' dog toys is a more hygienic toy for your pet and your family. With less bacteria on the surface, hygiene is improved and the staining, odours and premature degradation of materials is reduced.
BioCote technology will therefore make this product more hygienic, keep it fresher for longer and extend it's usable lifetime.
The Rosewood Pet 'BioSafe' dog toy – constructed out of tough yet soft plastic – massages gums to reduce plaque and tartar build up, has a zesty fruit scent and even floats too!
Benefits to your business
Market research shows customers are more likely to purchase products with BioCote protection and are prepared to pay a premium.
Consumers, distributors and retailers around the world recognise the BioCote brand, making purchasing decisions quicker.
DIFFERENTIATE YOUR PRODUCT
Your new product feature allows you to take advantage of the combined goodwill created by our partners around the world.
What our partners say
We launched our antimicrobial chair range initially to add a genuine USP to our customers, but quickly extended our ranges into tables and storage units. Our products are primarily used in schools where children's immune system has not quite developed fully, so our antimicrobial range not only benefits the pupils, but also the school, too. The expertise and advice given is streets ahead of the other antimicrobial companies that we contacted, plus we especially liked the excellent marketing support and documentation available via the partner portal.

Marketing Director at Proform Europe

We chose to create an antimicrobial product to obtain a relevant competitor advantage in commercial applications (Hospitals, care homes etc.) with our wiring accessory industry. We chose Biocote as they were a recognised brand within our target market. Biocote had already undertaken a lot of awareness campaigns within the market, so it seemed an obvious choice.

Product Manager at Crabtree Wiring Systems – Electrium / Siemens

In an environment where hygiene is critical and antimicrobial technology is standard in temperature measurement equipment it is reassuring for Comark and our customers to know we are working with the best. Not just a globally recognised brand, BioCote is proven effective against microbes that cause illness, spoil food and reduces the potential for cross contamination.

Marketing Manager at Comark Instruments