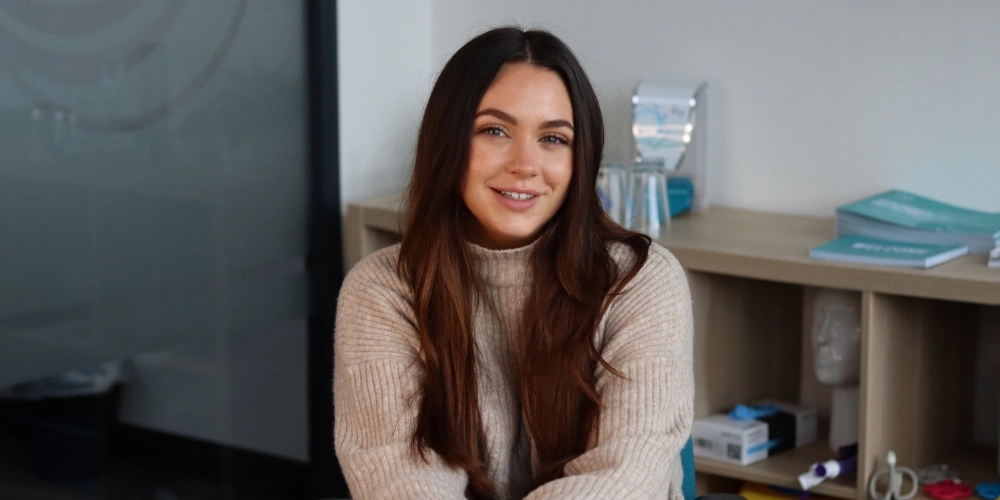 Marketing is no longer about the stuff that you make, but about the stories you tell. Social media, in particular, has evolved exponentially over the last couple of years – it is not just about posting on your Twitter or Instagram profile. It's about the language between you and your audience and about establishing the right dialogue.
– Hannah Mullane
As BioCote® continues to grow, so does our team. We have had a very rewarding history with our social media and content internships over the past few years, successful and busy enough to look for a candidate to join our Marketing Team on a permanent basis!
Meet Hannah, our new Social Media and Content Executive, a recent graduate in Marketing and Public Relations from Coventry University. Hannah will be collaborating with not only the Marketing Team to drive content production and manage all BioCote® social media channels. Following in the footsteps of our previous intern, Hannah will continue to support the exciting digital growth journey of BioCote® as we solidify and strengthen our brand in the social media arena.
We have asked Hannah to tell us a bit more about herself – welcome to the team!
"After finishing my college diploma in childcare, I took a gap year as I was unsure of my path at the time. I entered retail and my gap 'year' turned into a gap '5-years' as I was simply just enjoying the opportunity to grasp the working life. During my time as a visual merchandiser, I began to think commercially, gaining creative flair and an eye for detail which allowed me to manipulate a space into a visually enticing experience. Thus began my venture into the marketing world!
I decided to bite the bullet and go back to education to secure a degree in something that comes naturally to me, where my passion for marketing only grew. Creating something that can tell a story or induce emotions is part of what I thoroughly enjoyed doing in university assignments, so much so that I allowed my passions to reflect even on my dissertation topic of Corporate Social Responsibility.
I'm looking forward to my new adventure at BioCote®. Being part of the team will allow me to develop my skills as I enter my marketing career, whilst being part of a wonderful team that not only takes care of BioCote®, but its partners too."
Recent hospitalisation data reveals that a new variant of coronavirus has emerged, the Eris variant, now accounts for a significant portion of COVID-19 cases in the UK. In the face of this new challenge, it becomes crucial to explore innovative solutions to reduce the risk of contamination and the spread of this and other microbes.
Taggant technology is the use of microscopic particles that emit light when exposed to specific wavelengths. Traditionally used in counter-fraud technologies, BioCote® has ingeniously adapted this concept to highlight the presence of antimicrobial additives in products.